SASHA- LEE LAUREL OLIVIER
Sasha-Lee Laurel Olivier, 26 is the new Miss South Africa 2019. She assumes the mantle from title holder, Zozibini Tunzi, who was crowned Miss Universe in December 2019. Sasha-Lee said she was thrilled to wear the Miss South Africa crown.
"I am so happy for Zozi who deserves, in every way, to wear the Miss Universe sash. I wish her every success. I step into big shoes. I just want Zozi to know that I will do my best to fill them."
​Speaking from New York, Zozi said she was delighted that Sasha-Lee would be taking over from her. "I cannot think of anyone who is more suitable to be Miss South Africa. Sasha has it all: beauty, brains and, above all, a commitment to help others. I have no doubt that she will use her reign to help improve those in need."
On January 20 2020, 26-year-old marketing and psychology student Sasha-Lee Laurel Olivier was crowned Miss South Africa 2019. She wrote on her Instagram account: "I'm humbled and so incredibly excited to take over the reins from our Miss Universe." She assumed the mantle from title holder Zozibini Tunzi who, in December 2019, became Miss Universe. Sasha-Lee stepped into the coveted Miss South Africa role with grace, gratitude and aplomb.
2019 was the year that saw the Miss South Africa competition move out of the traditional "beauty pageant" space, embracing entrants' diversity, individuality, authenticity and uniqueness. Sasha-Lee said: "It was a gift to be a part of something this big in this world that used to be characterised by so-called physical perfection. I'm proud of my curves and inclusivity and equal representation… those concepts are very important to me."
ON HER MISS SOUTH AFRICA JOURNEY
Born in a working-class suburb, Alberton in Johannesburg, Sasha-Lee refused to let her humble beginnings interfere with her dreams. 
She is inspired by women of tenacity, women who have faced adversity and succeeded in spite of it, like Oprah Winfrey and South African born Hollywood actress, Charlize Theron. 
Sasha's journey has been a long and arduous one, ending with her achieving the dream of her life – the chance to wear the Miss South Africa crown. Just as importantly, Sasha-Lee wanted to use her platform to send a message to those who, like her, had suffered sexual abuse. 
She wanted them to know that they were in no way to blame for the assaults they had suffered at the hands of the perpetrators. Her chosen social responsibility campaign for the duration of her reign was #itsnotyourfault.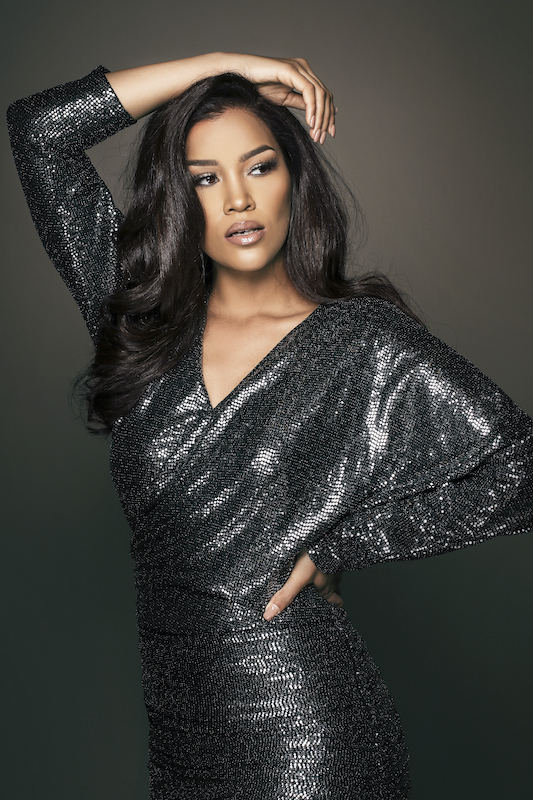 Sasha-Lee sees herself, primarily, as a gender activist and works tirelessly to support survivors of sexual abuse. She says: "I endured years of sexual assault at the hands of an adult, and when I told the grownups around me about what was happening to me, nobody believed me. "It is why I have devoted this year of my reign to making those abused know that they are not responsible for their abuse. 
"Taking over the Miss South Africa title means that I am able to continue working to help women who, like me, have been sexually abused. It will be a top priority for me during my time as Miss South Africa." Sasha intends to continue to devote her time to the Beauty with a Purpose campaign that she took to the Miss World pageant in December 2019. Sasha-Lee's #itsnotyourfault campaign is aimed at making sure that people who, like her, have endured sexual assault, know that they are not to blame for their abuse.
As a survivor of rape and sexual abuse, Sasha-Lee's campaign is designed to support, inspire and help girls, boys, women and men who, like her, have survived sexual abuse. She says she chose #ItsNotYourFault because a very deep sense of shame accompanies rape and long-term sexual abuse. Those who have suffered at the hands of the predators and perpetrators feel responsible for their own abuse, and are profoundly ashamed of what is happening, or has happened, to them.
"We need to change the commonly held perception regarding this – the shame does not lie with the victim at all." Drawing from her own negative experience, Sasha-Lee is reaching out to women and girls (and boys and men) when they are at their most vulnerable, reporting their attack at poorly equipped police stations.
She has joined forces with Penny Stein and the Angel Network to identify sexual abuse hot spots and provide Rape Comfort packs.